May 5, 2021 by Mel Saunders
Behind The Scenes at Birdsong Bakery - The Kitchen Tour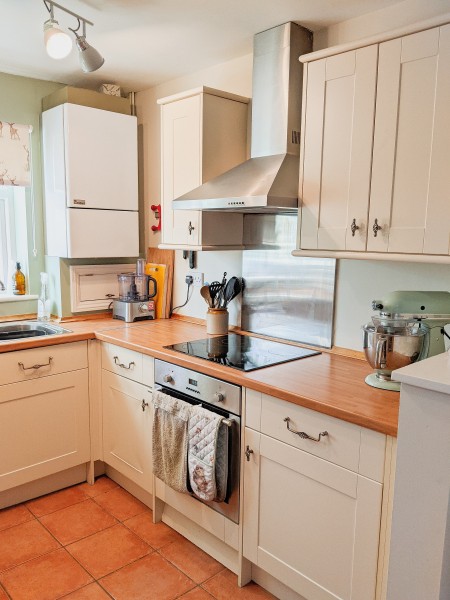 Welcome to Birdsong Bakery, come on in! I'll pop the kettle on and get us something freshly baked to devour…
Everyone likes to have a nosey round someone else's kitchen don't they - or is it just me? Anyway I thought you'd like to have a little gander at where all the magic, cleaning, baking, experimenting, packaging, blog writing, more cleaning and bad dancing goes on… here we go!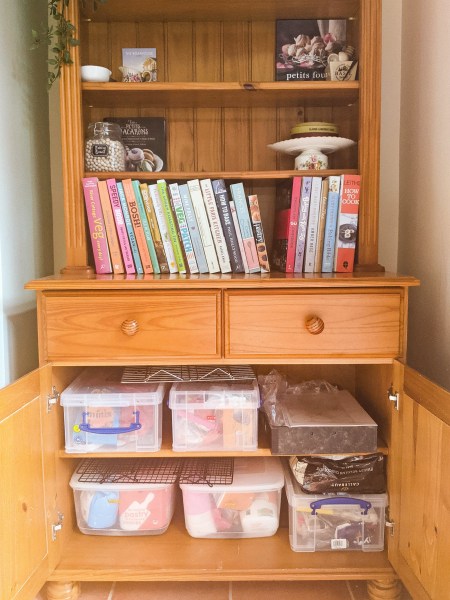 First up is the ingredients cupboard, where everything is kept in separate containers and all fully labelled up, to ensure I don't grab the peanuts instead of the plain flour! (I joke but I take it incredibly seriously, the thought gives me palpitations). I mostly use those Really Useful boxes as they are, as the name suggests, really useful. Proper clip-shut lids to make sure any open packets are kept fresh, I love them. I also keep all my cooling racks, ingredients lists, stickers and laptop in here.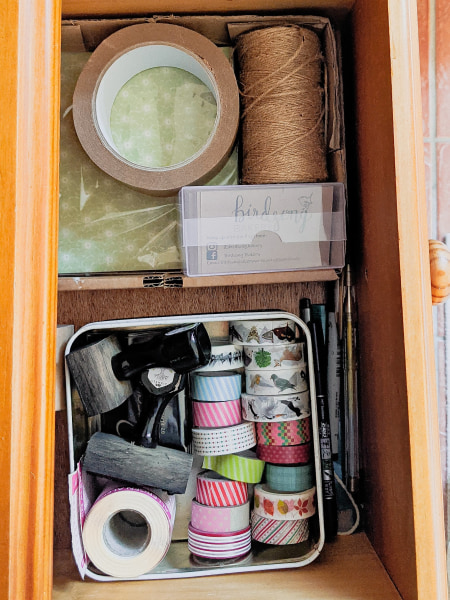 The "make it all pretty" drawer is also in this dresser, containing all my lovely washi tapes, gold pens, stamps and string - all the things I need to take my boxes from "just boxes" to special luxury treats. My nifty little gadget (read: doctored box) to help me tie up the packages without swearing profusely also lives here - a genius idea from Mr Birdsong to save my sanity - hand-tying everything when nothing sticks to anything else is quite a challenge! I bought my gorgeous stamps from a company called Stamp It - they're made of reclaimed oak and use vegan ink. I was so impressed that they managed to get all the little details on my logo and really love that they allow me to personalise absolutely anything (the wren is called William, in case you were wondering!). My wren stickers are from a local company called Banana Print who are also completely awesome, so speedy and excellent quality.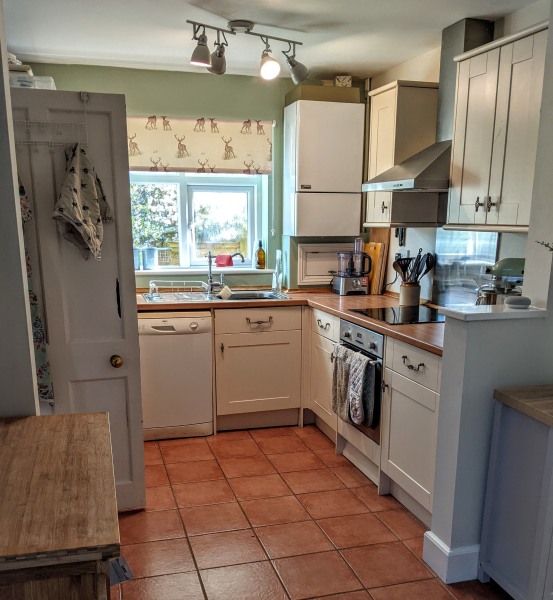 Onto my tiny little kitchen. It really is very small with limited worktop space, so I have to be a bit clever with how I use it (which has taken a few years of frequent rearranging to get right!). When I'm baking I have my scales plugged in on the side ready to go (recently upgraded from the no-brand cheap scales I've had for about 15 years, to the MyWeigh KD8000 and they are bloody amazing).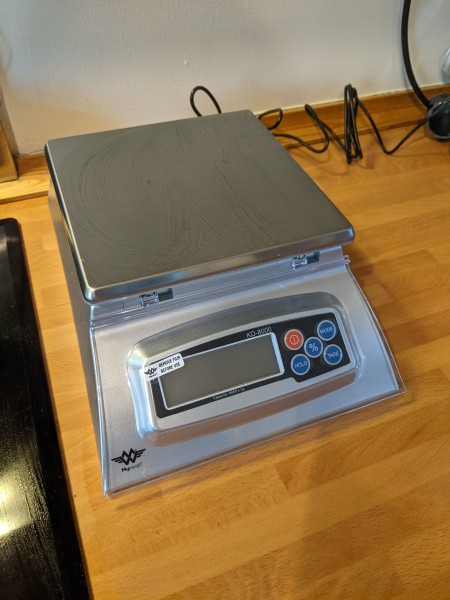 My KitchenAid is my pride and joy and makes baking an absolute pleasure. I've had it for over 3 years now and it's stood up to some serious use without ever complaining - I use it for everything from bread-making to meringue buttercream, it's a marvel. Not to mention it's utterly beautiful to look at, which I know shouldn't be important but let's be honest, it is. Just look at it…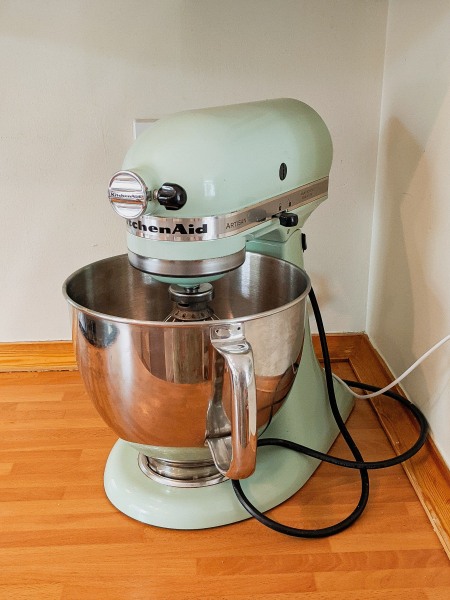 Last up is the complete workhorse that is Bertha, my baking cupboard. I'd been stubbornly refusing to buy a new expensive cupboard for months, trawling eBay and Facebook marketplace for something secondhand and cheap but that also fit an incredibly specific brief (don't want much do i?) …Low and behold Bertha appeared, like a cupboardy bargain miracle. Secondhand, £15 (yes, £15!) and not too far away (43 minutes away to be precise). I leapt into my car and drove maniacally to get her, with the previous owners looking slightly bemused as to why I was so excited about the crappy old cupboard they were getting rid of. I was excited because it meant I had space to start my baking dream, as obviously there was no way an entire business was fitting into my already overcrowded tiny box of a kitchen. Bertha looks after everything I need to make your delicious creations; from tins and greaseproof to colours and sprinkles. She's on wheels so I can wheel her around on baking days to give me extra surface, and she's super easy to clean which makes my life just so much simpler. She's 100% the best purchase I've made for the bakery, and it meant I was able to use something that someone else no longer wanted. She's the cupboard of my dreams. Yes, I really just said that.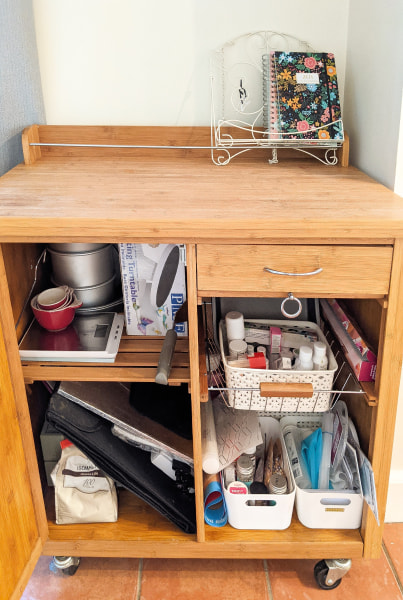 If you've made it to the end of what is essentially a cupboard appreciation post, then I applaud you! Now, is there anything you wanted to see that I missed out? Do we need a whole post just about Bertha?? Let me know, and thanks for reading!!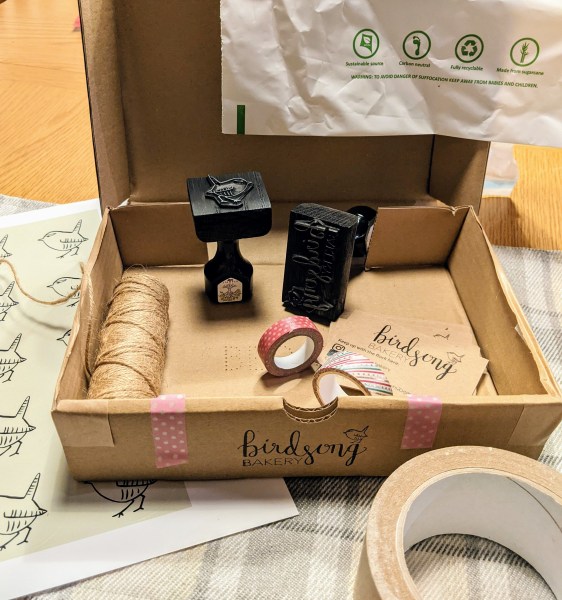 Please note that this is not a sponsored post, I earn no commission from any of these products, they're just what I use personally. Thanks!